Swipe to read the document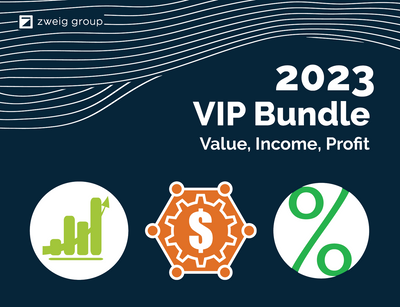 Surveys
2023 VIP Bundle
Released On:
April 28, 2023
See Preview
What's Included


The 2023 Financial Performance Benchmarking Package
The 2023 Valuation Benchmarking Package
The 2023 Total Compensation Benchmarking Tool
We have carefully curated this suite to provide you with a holistic understanding of your firm's performance, compensation structure, and valuation in the industry.
By combining these three powerful resources, you'll have a complete toolkit to elevate your firm's performance, enhance your compensation strategies, and make informed financial decisions. Empower your leadership team with data-backed insights and stay ahead of the competition in an ever-evolving industry.
A $3,585 value for only $2,500! Please note, this package is heavily discounted and not available for participation discounts.
Industry
ENGINEERING, ARCHITECTURE, CONSTRUCTION & PLANNING
More about 2023 VIP Bundle
VALUE - 2023 Valuation Tool
INCOME - 2023 Compensation Tool
PROFIT - 2023 Financial Performance Tool
Key financial statistics. This chapter includes net service revenue and profitability measures, labor multipliers, turnover rates, professional/technical to administrative staff ratios, and so much more. In addition to detailed breakdowns of all the data by firm type, staff size, region of headquarters, growth rate, and client base, we've also included seven years of trend data.
Personnel costs. Five major types of personnel costs: payroll taxes, vacation, holiday & sick leave, group insurance, pension, profit sharing & 401(k) plans, and bonuses, are measured against standard benchmarks. Five year historic data is also included for trend analysis. This section also includes data on workers' compensation premiums and claims.
Other financial statistics. In addition to all the above information, additional topics– everything from financial software applications to cash flow reports and professional liability insurance.
Zweig Group's exclusive Z-Formulas quickly calculate how much your firm is worth.
Simply input seven factors: staff size, net revenue, backlog, EBITDA, profit, book value, and interest bearing debt, for a rough value for any industry firm.
Over 120 case studies can be used to make reliable comparisons of value between your firm and others in the industry.
See how growth rate, staff size, firm age, and other factors affect firm value.
Compare your staff's compensation to those in firms just like your own.
Find out what the normal compensation range is for every type and level of position in an AEC firm.
See how salaries change as firms grow in size and help you prepare for your own firm's future.
Evaluate total compensation on a state-by-state and regional basis.
If you have offices in more than one state, see where employees are earning the most—and the least.