Swipe to read the document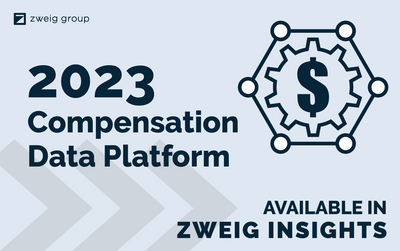 Zweig Insights
2023 Compensation Data Platform
Released On:
July 11, 2023
What's Included
The 2023 Compensation Data available on Zweig Insights contains data gathered after January 2023 and is designed to help firms evaluate how salaries have changed during the first half of 2023.

The data is available in ZWEIG INSIGHTS: an Online Interactive Data Platform.
Get access to salary information on nearly every job role at engineering, architecture, and environmental firms. Statistics are broken down by firm staff size and region of office for more accurate benchmarking and comparisons. Job descriptions and average years of experience are included for all titles in the survey. 
 

This data will help you:
Compare your staff's salaries to those in firms just like your own

Find out salary ranges for every type and level of position

See how salaries change as firms grow in size to help you prepare for your own firm's future

Evaluate salaries on a regional basis


The 2023 Compensation Data combines our Salary Survey Report + Total Compensation Benchmarking Tool into one seamless experience on zweiginsights.com
Industry
Engineering, Architecture & Construction
More about 2023 Compensation Data Platform
What to Expect
How it Works
About Zweig Insights
Streamlined data review and analysis made effortless, eliminating the need to navigate a static 150+ page PDF document.
Instant access to updated compensation data sourced from firms over the last 6 months.
Interactive benchmarking tools that provide a side-by-side comparison of your firm's performance against industry standards.
Exciting additions to the compensation data! Explore overtime data, bonus data, years of experience, base salary, and much more.
Purchase access above.
Receive a confirmation email with your login information.
Navigate to Zweig Insights and login to begin exploring the data!
This is our first data set to be released within Zweig Insights, Zweig Group's interactive data platform that redefines how to review and leverage industry data and benchmarking tools. This roll out combines our Salary Survey Report + Mid Year Update + Total Compensation Benchmarking Tool into one seamless experience.
As the trusted resource for industry data, Zweig Group is on a mission to elevate the user experience with our data one report at a time through our data platform, Zweig Insights.
Our vision is to give users access to current and comprehensive data in a seamless and interactive digital environment.