Swipe to read the document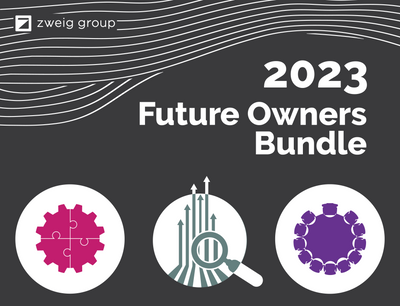 Surveys
2023 Future Owners Bundle
Released On:
October 27, 2023
Industry
ENGINEERING, ARCHITECTURE, CONSTRUCTION & PLANNING
More about 2023 Future Owners Bundle
Policies, Procedures & Benefits
Operating Expenses
Principals, Partners & Owners
Your firm's policies and procedures play a vital role in shaping its culture, compliance, and overall effectiveness. This report offers an in-depth analysis of your policies and benefits, allowing you to fine-tune your operational framework for maximum efficiency and employee satisfaction.
Zweig Group surveyed AEC Industry firms on their workplace policies, benefits, HR staff composition, HR operating expenses, and other important workplace issues and challenges. Data was collected from firms of every size, type, and region of the country.
Based on data from hundreds of AEC firms across the U.S. over a three-year collection period between 2021 and 2023, this tool is the new standard for firm leaders to benchmark their firm's overhead staff and spending relative to total firm size and revenue.
The Benchmarking Tool will help you:
Determine how many overhead employees are typical for your firm based on total staff size Benchmark your overhead spending in finance, HR, IT, and marketing relative to NSR Break down spending in each department to see where your firm is behind or ahead of the curve Analyze staff hierarchy in each department and how much labor expense is dedicated to these employees.
This dynamic benchmarking tool is the go-to product for firms looking to benchmark organizational structure and spending distribution among overhead departments. With a stable plan in place for its overhead departments, firms can be confident in the capacity and productivity of non-technical staff and ultimately improve profitability in the present and future.
Compensation: The report has comparative data on salaries, bonuses, owner distributions, total compensation, and perks by firm type, region, size, growth rate, and firm profit, plus by the principal's title, the percentage of ownership, age, and gender.
Perks: What's normal and what's excessive in the area of "perks" for principals? Get statistics on every kind of perk–including vacations, cellular phones, country club memberships, tax preparation, and auto allowances.
Roles & responsibilities: Data on how many hours principals typically work per week, their charge-ability, time spent on different tasks, vacation taken (or not taken), and more. We also asked principals how they felt about their fellow owners and board of directors.