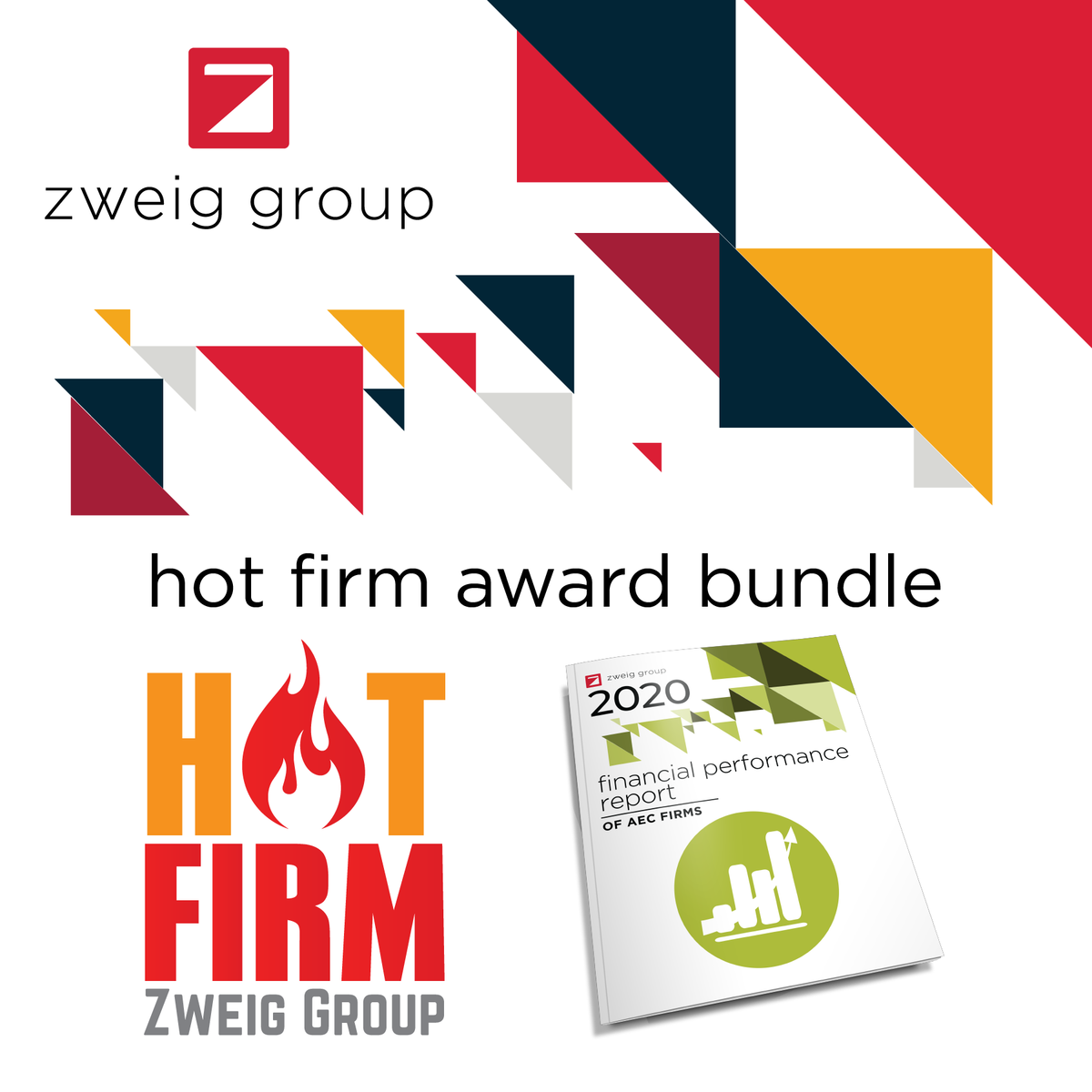 2021- 2022 Hot Firm Award & Research Bundle
Get a 2022 Hot Firm Award entry as well as the 2021 Financial Performance Survey Report (PDF). 
Hot Firm Award
Deadline: May 13, 2022
The Zweig Group Hot Firm List recognizes the 100 fastest-growing AEC firms in the United States and Canada. These firms have outperformed the economy and competitors to become leaders in their chosen fields.

To be considered for this award, firms must fill out a short application and are ranked by a score comprised of both dollar and percentage revenue growth rate over a three-year period.
Entry Criteria:
50% of the 2018 fiscal year and 2021 fiscal year revenue must be derived from the AEC industry.
Public entities such as departments of transportation or municipal public works offices are not eligible.
Firms must have made at least $1 million in revenue in 2018
Firms must have been founded on or before December 31st, 2016

Winners will receive awards at the 2022 Elevate AEC Conference and be featured in The Zweig Letter, Zweig Group press releases, and promoted through Zweig Group's other marketing channels.
Financial Performance Survey Report

DETAILS
Comprehensive data on the financial performance, financial departments, challenges, methodology, and financial practices of AEC industry firms. 
Key financial statistics. This chapter includes net service revenue and profitability measures, labor multipliers, turnover rates, and professional/technical to administrative staff ratios, and so much more. Data is also segmented by firm type, staff size, region of headquarters, growth rate, and client base, with multiple years of trend data for overall medians or means. 
Personnel costs. Five major types of personnel costs are analyzed in this publication including: payroll taxes, vacation, holiday & sick leave, group insurance, pension, profit sharing & 401(k) plans, and bonuses.  Trend data is also given for historical spending comparisons. This section also includes data on workers' compensation premiums and claims.
Other financial statistics. In addition to all the above information, this publication has data on additional financial topics – everything from financial software applications to cash flow reports and professional liability insurance.