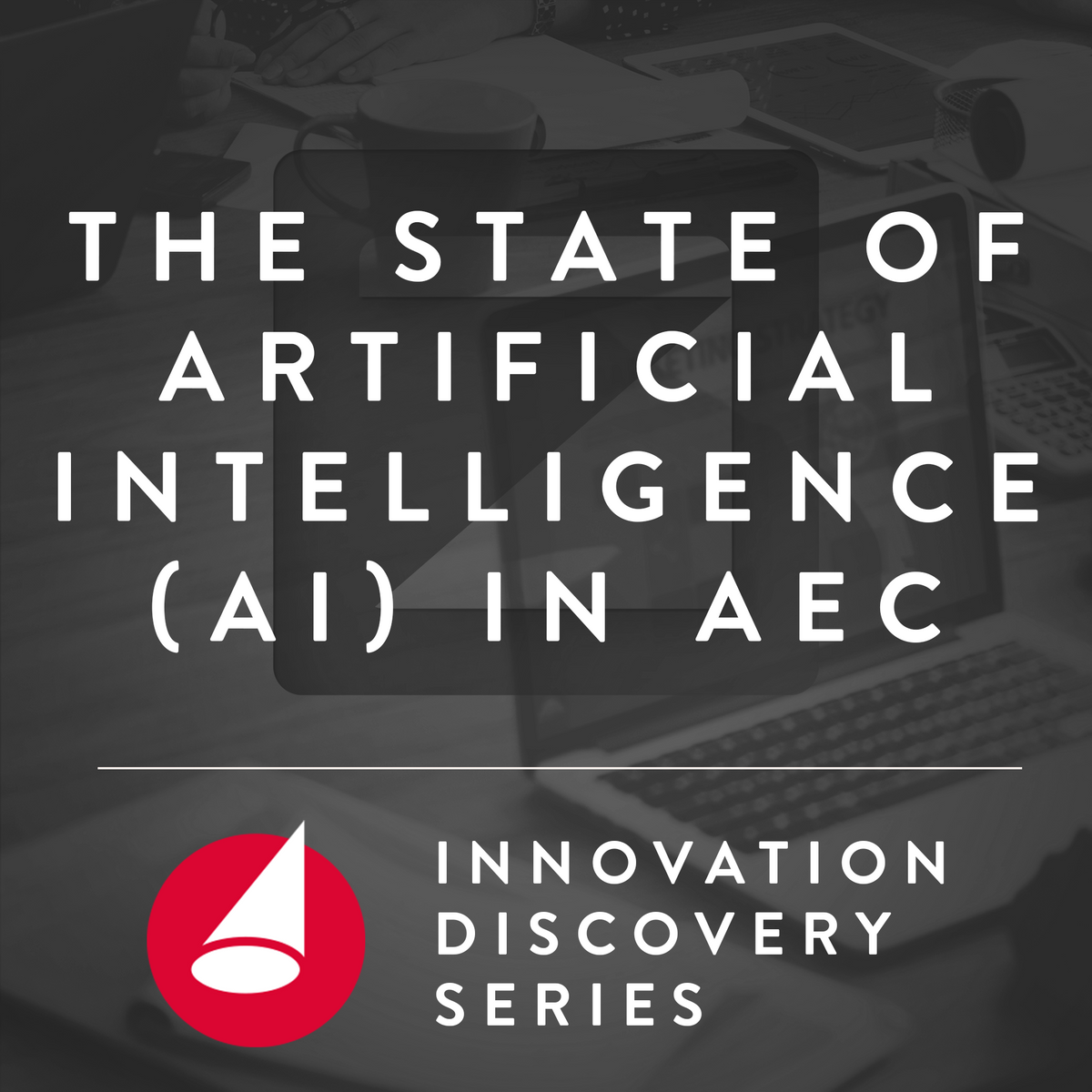 Innovation Discovery: The State of Artificial Intelligence (AI) in AEC
THIS WEBINAR WAS HOSTED ON MAY 10, 2023 AND IS NOW AVAILABLE FOR ON-DEMAND DOWNLOAD.
AI has dropped a bomb on the public lexicon in the past few months. Suddenly it is everywhere, and you don't know what you don't know. If you are feeling curious, lost, or even left behind, you are not alone. How do you wade through the technology, keep updated on every advancement happening at light speed, and most importantly, understand how it impacts you, your job, and your business – specifically within the AEC industry?
This seminar will explore AI 101, what it is, and what you should know, including its inherent problems and emerging opportunities. We will outline the most significant ways that AI is going to affect your business from top to bottom, in every corner of your organizational chart throughout design, leadership, management, HR, accounting, legal, and marketing. We will also share the results from our latest AI survey and provide recommendations for immediate next steps. Whatever you think is next is actually already here. The future is happening today.
AI is having a dynamic impact across all businesses, and the touchpoints into architecture, engineering, and construction are very unique. Our speakers have decades of hands-on, AEC industry experience plus current expertise with AI, driven by data and real-world forecasting. They research and delve into the latest implications, innovations, and integrations daily to bring you the most accurate and factual information about how the AEC landscape is being reorganized by revolutionary, technological advancements.
This seminar is designed for anyone interested in understanding the transformative power of AI in the AEC industry. We promise you will walk away with valuable insights into the current state of AI adoption in the AEC industry and how it is shaping our future, right now.
Kristin Kautz, CPSM is an experienced marketer with over 23 years of expertise in the architecture, engineering, and construction industry. With a passion for innovation and technology, Kristin has become a leading expert in AI for the built environment, helping companies to implement and maximize AI in their business. She and her firm, JAM Idea Agency, are working seamlessly with Zweig Group to deliver the latest expertise and training specifically around AI integration and implementation.
Kristin is advising a wide range of organizations on how to integrate AI into their operations, from small firms to large corporations. AI is going to revolutionize our industry. With a deep understanding of the latest AI trends and technologies, Kristin provides strategic guidance and develops customized organizational structures, guidelines, policies, procedures, and training to ensure that companies can fully leverage AI to drive growth, improve efficiency and productivity, and enhance both client and employee satisfaction.
Her unique blend of marketing expertise, industry knowledge, and technical know-how has made her a sought-after speaker and thought leader in the field of AI for the built environment. Whether speaking at regional and national industry conferences, writing articles for leading publications, or collaborating with industry associations, Kristin is committed to advancing the use of AI in the AEC industry and helping companies stay at the forefront of innovation.
With a proven track record of success, Kristin is passionate (some call it contagious enthusiasm!) about providing clients with the insights, tools, and strategies they need to succeed in the ever-evolving world of AI and technology. Ask her anything at klk@jamideaagency.com.