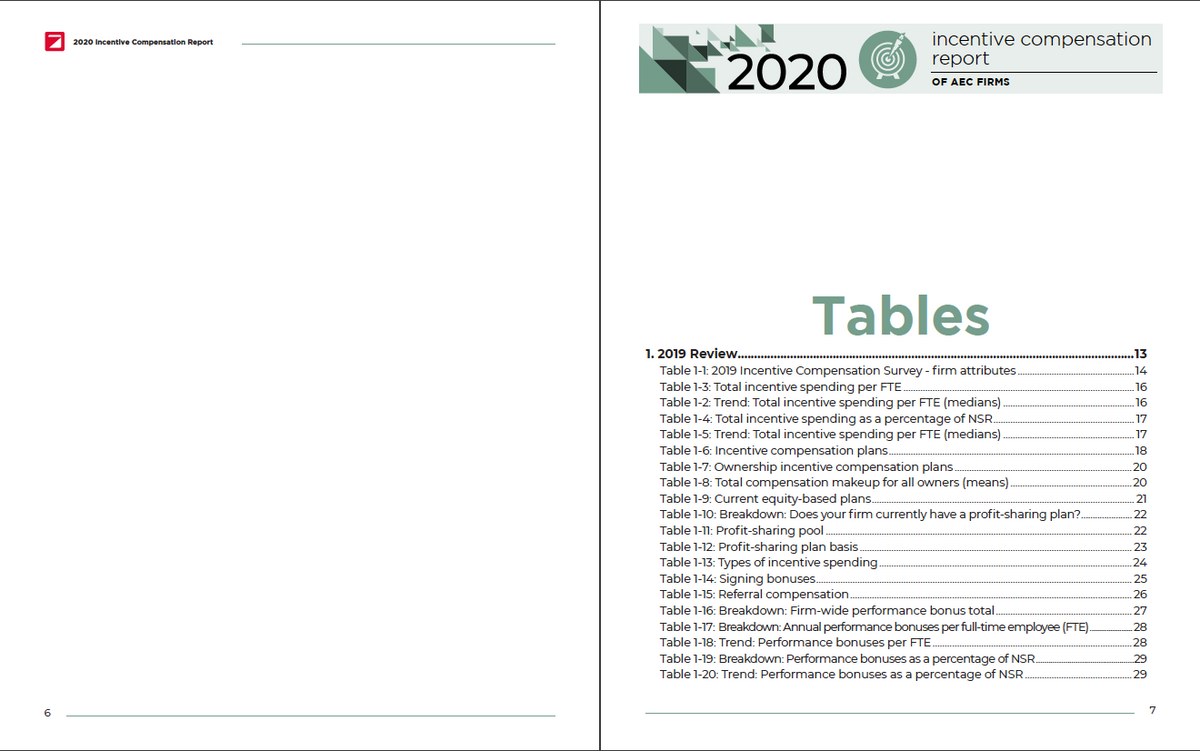 Scroll
2020 Incentive Compensation Report
Release Date: November 2020
DETAILS
The 2020 Incentive Compensation Report provides important data that AEC firms can use to:
Improve the programs in place
Start up new plans from scratch
Decide which employees should receive which types of bonuses, how often, and at what amounts
Find out how firm leaders rate different plans
Discover which bonus types have been the most successful for motivating, recruiting, and retaining staff
Get specific data on:
Average amount paid out per signing, referral, performance, and other bonus plans
Total and individual incentive compensation plan spending as a percentage of total payroll
Total and individual incentive compensation plan spending per employee
Actual formulas for calculating compensation plans in use among firms like yours
Percentage of pretax profits firms set aside for firm-wide profit sharing pools
Topics covered include:
Profit Sharing: Industry research shows nearly all firms base bonuses on company profits, and close to half of firms have profit-sharing plans. With firms' actual formulas, eligibility standards, and annual spending, this report will show you what your competition is doing in regard to profit sharing.
Performance Bonuses: In order to rise above your competition, it's important to know what other firms in the business are doing in terms of rewarding high performing employees. Whether they're using metric criteria or qualitative ratings to calculate the amounts, this report will tell you how much firms are spending on performance bonuses.
Signing and Retention Bonuses: Often a large factor in obtaining top talent, this type of incentive compensation plan can make the difference between a potential key employee choosing to work at your firm or with one of your competitors. Find out what other firms like yours are doing to draw in and retain the top talent in the field.
With examples of eleven types of incentive compensation plans, this report will help your firm understand what kind of financial investment it should make to be competitive in today's hiring market.