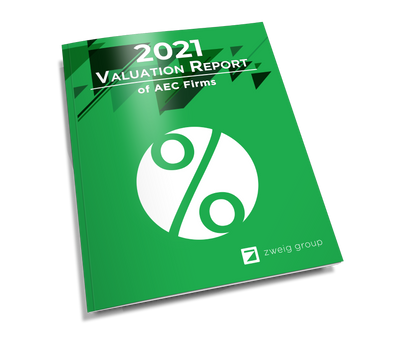 2021 Valuation Survey Report Benchmarking Package - with Excel working file
Release date: March 12, 2021
Participate in this survey and save 50%! Now accepting participation for the 2021 version. Click here to participate. 
The 2021 Valuation Benchmarking Package combines Zweig Group's traditional valuation report, as well as a comprehensive Excel-based tool for firm leaders to make real-time decisions that can impact firm value.
The 2021 Valuation Benchmarking Package includes:
2021 Valuation Survey of AEC Firms Survey - Digital PDF
2021 Valuation Benchmarking Tool - Excel working file
Use the data to:
Get a market-based value of your firm with only a few data points
Compare your firm's value ratios to other firms
Understand how specific financial line items impact your firm's value
Gain a frame of reference for conversations regarding your firm's value
DETAILS

The 2021 Valuation Survey Report of AEC Firms:
Zweig Group's exclusive Z-Formulas can be used to quickly calculate out how much an AEC industry firm is worth.  Simply input seven factors: staff size, net revenue, backlog, EBITDA, profit, book value, and interest-bearing debt, for a rough value for any industry firm.
Over 120 case studies can be used to make reliable comparisons of value between your firm and others in the industry.
See how growth rate, staff size, firm age, and other factors affect firm value
Chapter on valuation practices and ways to enhance value for design and environmental consulting firms.